Posted on: January 19, 2017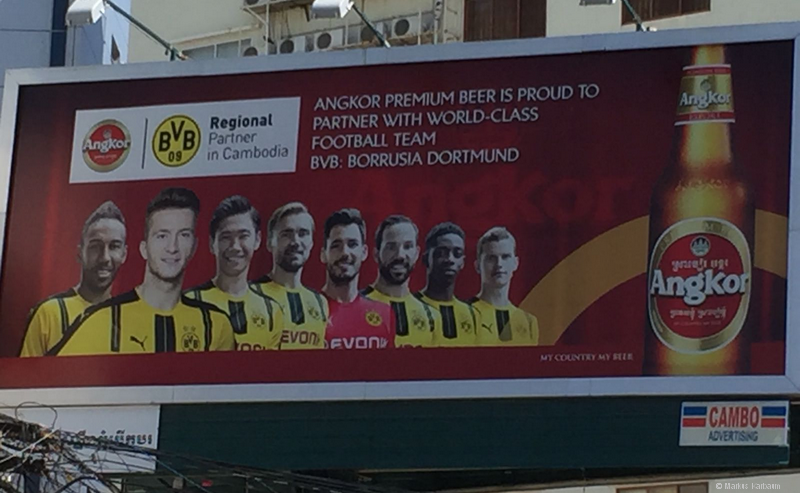 With respect to the high number of young people wearing black and yellow football shirts in their daily life, Borussia Dortmund's already existing popularity in Cambodia cannot be denied seriously. The German club has become one of the world's best addresses for authentic, passionate professional sport that is also successful. Presently, the European Football Union UEFA ranks the club on position seven in Europe, ahead of Premier League figureheads Chelsea, Arsenal, and both teams from Manchester. Extensive reporting by Fox Sports Asia bridges the distance of 10,000 kilometer to Cambodia where many matches are broadcasted live on TV. Hence, the reasons are obvious why Borussia Dortmund as the first team of German Bundesliga has entered the Cambodian market: In summer 2016, the club initiated a partnership for two years with Cambrew Ltd., particularly known for "Angkor Beer".
A few weeks ago, CEO Hans-Joachim Watzke proclaimed: "In the combination of great tradition, major successes, and an incomparable solidarity, in any case Borussia Dortmund is the most magnificent club of the world." This self-praise appears to be well justified. The club – motto: "real love" – is not owned by a Russian oligarch, Arab sheikh or an American hedge fund, but by its roughly 150,000 members. This puts BVB [bɛ vaʊ bɛ] – how the club is typically called in Germany – among the top five sports clubs of the world with the highest number of members. According to an analysis produced at Brunswick University in 2015, eight-time national champion Borussia Dortmund is Germany's top football brand, far ahead of Bayern Munich. Therefore, it is certainly no understatement when Cambrew Ltd. expresses its pride of this partnership (by the way, it is a very natural liaison because Dortmund was commonly known as "beer city" in the 20th century).
Desire for puristic football
Currently, only one huge billboard – displaying Marco Reus, Shinji Kagawa, and other players larger than life – in Phnom Penh attests to the liaison of German football and Cambodian beer. It mirrors the increased presence of the club in Southeast Asia. In 2014, BVB opened an office in Singapore which also acquired the sponsorship deal. However, according to Benedikt Scholz, Head of Business Development and International Relations at Borussia Dortmund, it is not so much about the turnover, but to increase the club's popularity in the region. "After we returned to international competitions in 2011, we noticed an increased global interest in the unique BVB story. There is a desire for puristic football Borussia Dortmund stands for, not only in Cambodia", Scholz argues.
And this BVB story appears really impressive: Founded in 1909, the club was named after the Borussia Brewery while Borussia itself is the Latin name for Prussia. It has assembled numerous national and international honours, including Champions League and the de facto club world championship in 1997. The club was the first German team that won a European club competition (in 1966) and went almost bankrupt shortly after the turn of the century. In 2011, BVB became national champion with the youngest team (regarding the median age) ever followed by winning the "Double" consisting of German Championship and Cup competition one year later. In the 2015-2016 season, 1.95 million fans visited the stadium – currently, there is no other sports team in the world that attracts more spectators per year. On average, more than 80,000 fans attend a BVB match at their home stadium which is only outnumbered by American Football team Dallas Cowboys. A few years ago, an English newspaper declared the Westfalenstadion as the world's top football stadium due to its amazing atmosphere usually generated by the "Yellow Wall" as the Southern terrace is called.
Borussia plans to increase its presence in Cambodia
Ingrained in the Ruhr area, Borussia Dortmund has already initiated several media and commercial partnerships abroad. In both 2015 and 2016, the club traveled to Asia including Malaysia for some friendly matches of the full professional squad. In the near future, its football school for kids and a legendary player could visit Cambodia. In addition, Angkor Beer and Borussia will increase their social media activities. As more and more fans of Cambodia's middle class prefer original football shirts as status symbols, it could become attractive for BVB's outfitter Puma to increase retail activities. However, Cambodian fans of Borussia Dortmund do not need to wait as they already can purchase jerseys of Marco Reus or Mario Götze directly at the Southeast Asian online fan shop at http://seasia.bvbfanshop.com/.
Visit Borussia Dortmund at Facebook: https://www.facebook.com/BVB/?fref=ts.
Interested in establishing Borussia Dortmund's first official fan club in Cambodia? Contact Markus Karbaum for further information.