Posted on: February 5, 2019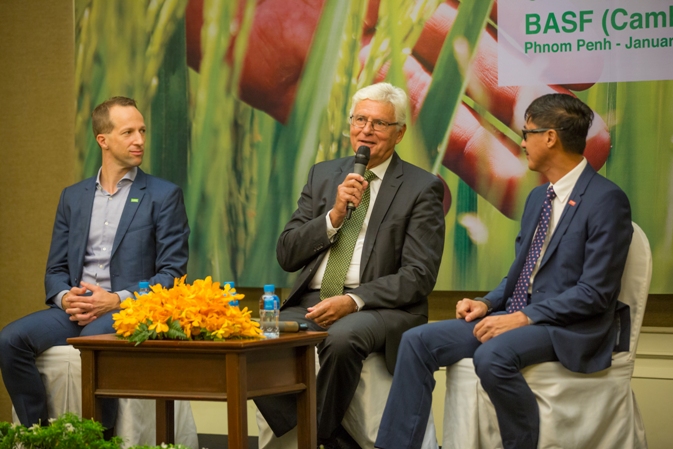 BASF, the world's leading chemical company and operating in more than 80 countries worldwide with subsidiaries and joint ventures, inaugurated its first wholly-owned company in the kingdom – BASF (Cambodia) Co. Ltd. – on January 16th. BASF has been active in the Cambodian market since 2014 through distribution partners. Now, the company's direct presence in the market will offer potential Cambodian customers and stakeholders innovative solutions in a range of diverse industries.
"BASF aims to bring a wide range of innovative and sustainable solutions to support the growth of Cambodia's strategic industries, including furniture, rubber, footwear, nutrition and health and agriculture," said Petrus Ng, Managing Director, BASF in Thailand and Indochina. "Our customers in Cambodia will enjoy the support of BASF's global network, expertise and innovation."
The company's main businesses in Cambodia will be chemicals (monomers and intermediates), performance materials (polyurethane solutions), nutrition and health and agricultural solutions. Three new crop protection products will be initially launched, empowering farmers and growers with more tools in their toolbox to manage their crops. To support local farmers, BASF will maintain a team of local technical specialists in Cambodia, who will be supported by BASF's network of experts in Southeast Asia and around the globe. Additionally, BASF aims to engage with both distribution partners and farmers directly to conduct training sessions on sustainable agricultural practices; including proper selection and safe storage, application and disposal of crop protection products.
"Though Cambodia has quickly become a leading exporter of high-quality premium rice, a number of challenges remain for the country's agricultural sector, including relatively lower levels of technology use and understanding by growers on how best to utilize innovations," said Martin Wolf, ASEAN Business Director, BASF Agricultural Solutions. "We believe BASF is well suited to help address these challenges and are excited to help Cambodian farmers become more profitable and sustainable."
Additionally, BASF's Nutrition & Health division is providing high-quality solutions and products to the food and beverages industry and to the animal feed industry in Cambodia, supporting the growth of the market. BASF will also offer solutions from its Performance Materials division. These include solutions primarily in footwear and furniture manufacturing.
With a total workforce of more than 115,000 employees, BASF Group's portfolio is organized into six segments: Chemicals, Materials, Industrial Solutions, Surface Technologies, Nutrition & Care and Agricultural Solutions. Headquartered in Ludwigshafen (Germany), BASF generated sales of more than €60 billion in 2017.