Posted on: February 23, 2017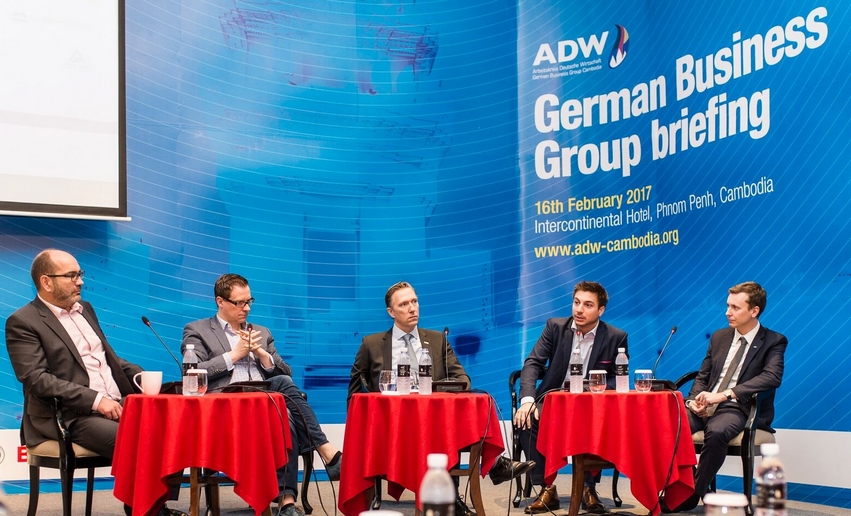 The ADW held its first Business Briefing 2017 at the Hotel Intercontinental in Phnom Penh on Thursday, the 16th of February. During a condensed morning session attended by 50 guests, three members held presentations followed by Q&A on the automotive, ICT and construction industries in Cambodia.
Following a brief introduction by Tassilo Brinzer, President of the ADW, Antoine Jeanson, country head for AUDI in Cambodia, explained the critical situation for German car brands in the Kingdom, and discussed the regulatory challenges of the industry which is fighting high taxation and an unrelenting grey and second hand market. Thomas Hundt, CEO of Smart, one of Cambodia's leading telco's, offered a highly insightful overview of the Cambodian telecommunications market, its challenges and the opportunities and discussed current trends, and responses to them. Andre de Jong, Managing Director for Myanmar, Laos and Cambodia for Bosch presented the latest figures and trends on the Cambodian property market, regulatory updates and the challenges that the fast growing industry might face in the coming years. The individual presentations were followed by a panel session which was also attended by Jebsen & Jessen Cambodia's General Manager, Romain Grosjean.
The ADW would like to thank the sponsors of the event: Bosch, Jebsen & Jessen, Rieckermann Cambodian and Smart.