Posted on: September 29, 2021
With the Merkel era over – how will Germany work with ASEAN and Cambodia in the future?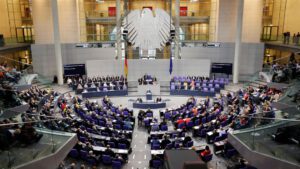 Photo: © German Bundestag/photothek
While the September elections in Germany have not yet yielded a confirmed successor to Angela Merkel, the overall direction of Germany's involvement in the Asia Pacific region has been outlined by her government in late 2020 already (download  strategy paper here). More engagement in and for rules based trade and investment will see the region gain relevance as one of Germany's most important economic partner blocs. In its Cambodia policy, not much change is to be expected while it will take months for the new government in Berlin to consolidate, and to define its own priorities and strategies for the country's position within its global development and economic policies.
"We wait and see how these results impact the German engagement here in Cambodia in terms of its development policies, and its approach to trade and investment", says Tassilo Brinzer, President of the GBC. "The German business community will certainly continue to grow its business in Cambodia. Our companies and brands are here for the long term, and everyone I speak with looks forward to the reopening of the country, and to renewed growth following the Covid-19 impact on the region and Cambodia. We see increased opportunities in business with and from Vietnam and Thailand, and hope that closer regional cooperation will lead to more partnerships with the German business communities there."
The most likely successor to Germany's popular chancellor Angela Merkel is her previous finance minister, Olaf Scholz from the Social Democratic Party (SPD). Not able to rule alone with a result of 25% of the votes, a likely outcome is that a coalition between the Green Party and the Liberal Party (FDP) will be negotiated during the coming months. Some of these partners' political ambitions were announced during the past months, and might well be reflected in a new government's coalition agreement. The Green Party will push for a stronger stance against climate change, for a stronger defence of human rights – and, it is more China-critical than Merkel's Christian Democratic Union (CDU).
Both of these policy directions might be reflected in upcoming strategies on development aid, and economic trade preferences. The traditionally business-friendly FDP will continue to advocate for open trade and a liberal economy following the Covid-19 crisis impact in Germany. To this end, the party wants to lower corporate tax to 25%, invest in the digital transition and delay the highest income tax rate to salaries above Euro 90,000 per year.
China plays a significant role in German politics today – as it does in ASEAN, and in Cambodia. "The more China-critical the new coalition government will be, the more ASEAN's strategic importance will rise for Germany," says Alfred Gerstl, a specialist on Southeast Asia international relations at the Palacky University in the Czech Republic in a recent commentary for Deutsche Welle (DW). 
This would especially be the case if the Greens, the most China-critical party in Germany, joins a coalition government, which many analysts expect it will, Gerstl explained.
Due to the Greens' strong focus on a human rights-led foreign policy, Germany's relations with the likes of Vietnam and Myanmar could suffer as a result, Gerstl said. It remains to be seen where Cambodia stands in this context.
Meanwhile, Jürgen Rüland, an expert on Southeast Asia at Germany's University of Freiburg expressed in the same article that the next German government may also move supply chains away from China; a trend being carried out by governments worldwide and exacerbated by the COVID-19 crisis. 
"This may result in an increasing diversification of [German] foreign direct investments and a reallocation of production lines from China to Southeast Asia," Rüland said. With the right strategy and policies in place, Cambodia could become a beneficiary of Germany's electoral outcome.