Posted on: January 2, 2018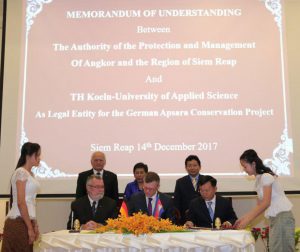 In 1997, the German Apsara Conservation Project (GACP) officially started its engagement in the conservation of the temples of Angkor by preserving the stone, carving and the exterior style of temples at the Angkor complex and other areas. Since then, joint efforts of GACP and APSARA Authority in safeguarding the artistic heritage of Cambodia produced many visible results that underline a successful cooperation. With an international scientific symposium about future challenges of stone conservation at Angkor, GACP celebrated its 20th anniversary in Siem Reap last December.
In her opening speech, the Minister for Culture and Arts, Dr. Phoeurng Sackona, appraised the excellent cooperation between Germany and Cambodia in the field of cultural preservation. The German Ambassador, Dr. Ingo Karsten, commended the vocational training involved with the project and expressed his hope that the APSARA Authority would increase its participation in the future. GACP and APSARA Authority signed a Memorandum of Understanding and handed over certificates to the excellent local staffs.
Driven by the conviction that Angkor Temples as testimonies of the old Khmer master-builders require equally masterful safeguarding interventions, GACP has been developing and constantly optimizing modern conservation conceptions. With a total budget of four million Euros donated by the German Federal Foreign Office, it is Germany's biggest project of cultural preservation world-wide. While the University of Applied Science of Cologne as the legal entity of GACP provides the administrative framework for the project, internationally recognized German conservation experts, many students, and the GACP team of local conservators devoted their knowledge and efforts to develop the best possible conservation methods for Angkor. The success of GACP is however mainly due to the relentless work and dedication of Prof. Dr. Hans Leisen and his wife Dr. Esther van Plewe-Leisen.